The College of Science:  an authentic history and continuous giving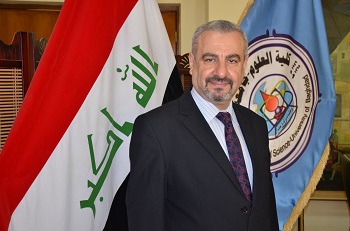 The college of science at the University of Baghdad is one of the main tributaries of scientific disciplines with its long history and active role towards development, advancement, and catching up with the accelerating wheel of change and progress in the world. The college of science is always seeking to make this society keep pace with these developments, deal with them, respond to their secretions in various aspects of life, and invest them in comprehensive development.
 In these long-standing steps, the mother college of sciences has considered the importance of science and the development of the educational process and learning in all scientific disciplines. In line with the movement of tremendous technological development in the world, the college of sciences occupies the position of leadership and scientific leadership not only at the country's level but at the level of the Arab world and the world.
Today, with its scientific departments, research units, administrative divisions, and reputable journals with world-class capacities, the college of science is witnessing unparalleled scientific, educational, research, and administrative development, defying all circumstances and obstacles. The teaching staff and the researchers continue to keep pace with modern science and provide students with the highest information to be awarded the highest degrees in scientific and practical outputs, supervision of graduate students' theses and dissertations, and other knowledge matters. As a result, our graduated college students have distinguished exceptional scientific knowledge mixed with sobriety and civilizational upgrading..
 Congratulations to our dear students for their generous college… I wish them and all college staff success, creativity, and excellence for years full of love and armed with science for a promising tomorrow that is loftier and glorious….

Prof.Dr. Abdulkareem AbdulRazak Al_ kazaz

          Dean of the College of Science